Shafi's
Mayavi
(
Myayavi
, as Salim Kumar's character
Kannan Sraank
prefers it) is one Malayalam film I really enjoyed watching. One can count them on one hand --
Pandippada
(by Rafi-Mecartin),
Rajamanikyam
(by Anwar Rasheed) and
Udayanaanu Thaaram
(by Rosshan Andrews) is all I can think of in, say, last three or four years. (
Classmates
came close).
Looks like everyone else is also enjoying it, going by the near-full house in the sixth or seventh week of its release.
Kannan Sraank
is one major factor in the film's success (I am becoming more and more a fan of
Salim Kumar
with every movie of his), as is
Gopika
's character (and the scene in which she buys the hero a lemon drink). The scriptwriters
Rafi
and
Mecartin
also deserve mention for coming up with crazier ideas every time.
`Namovakam'
to the entire team! [The poster above is not an "official" one. It's designed by a well-wisher of
Mayavi
and is available on the web at
http://img.photoamp.com/i/nq4qfWylu.jpg
]
[
Malayalam film buffs are known for their dislike for newer faces when it comes to heroes but thankfully, they don't seem to have such a reservation against new directors. The "experienced" lot has been biting dust time and again, while it's the fresh lot that's coming up with big commercial successes. Be it
Jayasurya
of
Speed Track
, Ravi
of

Keerthichakra

,
Johnny Antony
of

CID Moosa

,
Shafi
,
Anwar Rasheed
,
Rosshan Andrews
.. These directors have had some freshness in their themes and treatments. If this is any sign of things to come in Malayalam cinema, I count it as a good sign.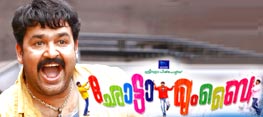 I am looking forward to
Chota Mumbai
. I hope Anwar does not disappoint like Johnny Antony and Rosshan Andrews did after promising first films. One has to give credits to Shafi for not following that path. He seems to be getting better.