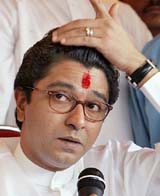 Nobody knew this nephew Thakre (ok English media writes Thackeray) till a few months back. Now any "small kid" does, and how! One should admit this guy has succeeded in grabbing the spotlight. Cutting across classes and cultures -- educated middle class to the Bihari labourers -- he has become an object of despise. In our "national media" and in our private parties alike, we dismiss it as "cheap tricks".
Because we really don't want to admit this war is real.
That this person has managed to gather good support among many "aam" Maharashtrians.
It is not rocket science. It is not Raj's intellectual property either. It is the basis on which Shiv Sena built itself. That is how SS got unprecedented kind of mass support in the seventies. Rooting for locals when it comes to jobs in Maharashtra, especially Mumbai. (The Hindutva came much later to Shiv Sena).
The jobless Maharashtrians is a real issue. As is lack of jobs in Bihar or UP. In other words, the imbalance in our very development model itself.
One may say "India is my nation" and be proud about it (Shiv Sainiks also do, and so do Maharashtra Navnirman Sainiks) but it remains a fact that Bombay is "the place to go" for most Indians. Then there is at most one Delhi, one Chennai, one Bangalore. And may be some smaller cities. A large part of India lives in darkness, without basic healthcare, without access to primary education, without anything.
No matter how much you try to romanticize the "village life" sitting in the air conditioned comfort of your city abodes, people are flowing from these villages to cities. And these cities are overcrowded, to say the least.
The living conditions in a slum in Mumbai are quite bad, but that does not put any breaks on the inflow. Which essentially means that the situation at home is worse.
And as long as we refuse to address that, as long as we do not wake up to the need for a more distributed and more localized development, as long as we are blinded by the "growth rates" and flying sensex (at least that has stopped for now), we are digging our own graves. The regional battles are here to stay.
* * * *
[a related link:
Marathis in US justify Raj demands; but condone his means to achieve it
, from NDTV dot com]